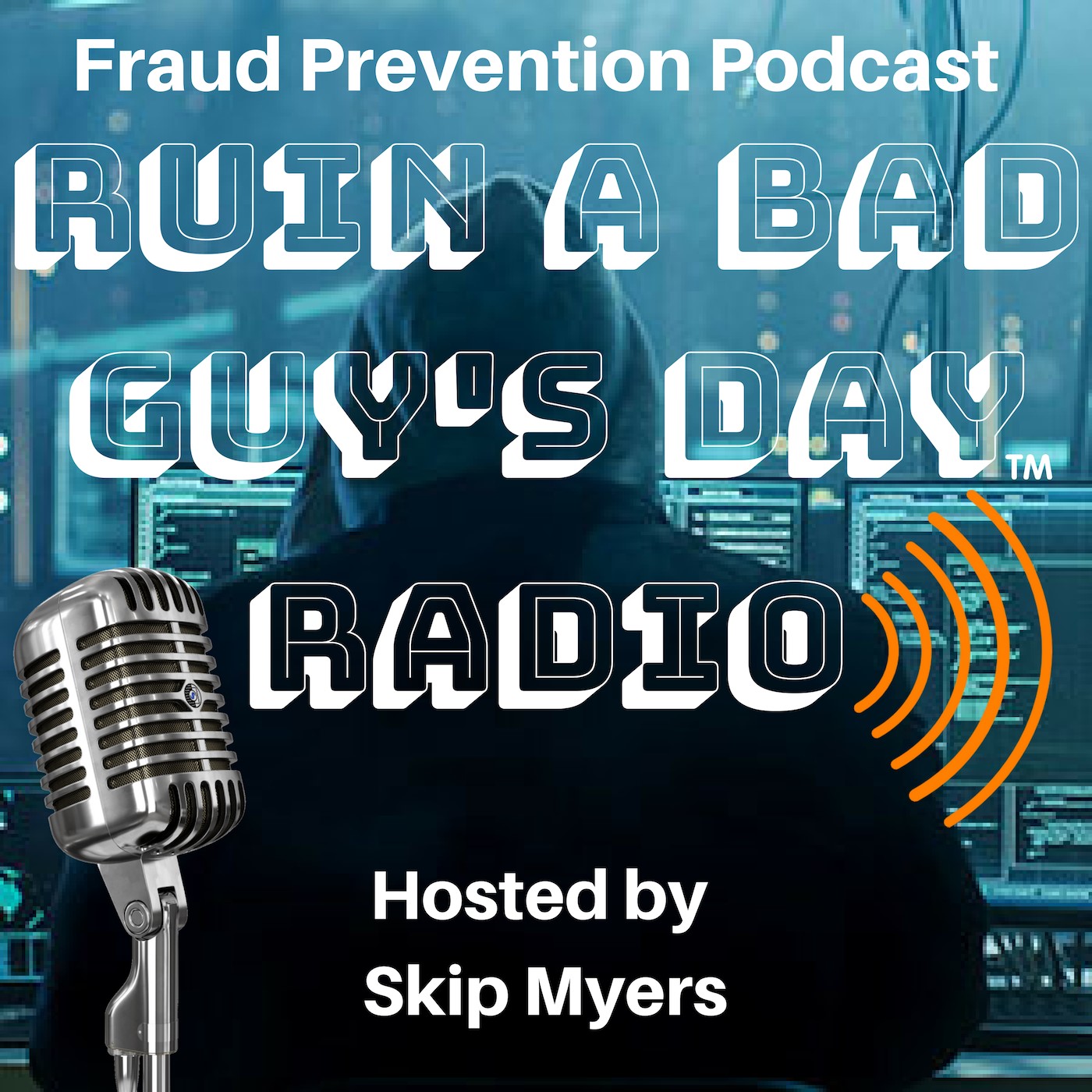 How Fraudsters Exploit Malware and Phishing for Financial Gain
Subscribe: Apple Podcasts | YouTube | Spotify | Stitcher | TuneIn
Welcome to Ruin a Bad Guy's Day Radio. We are growing by leaps and bounds because of listeners just like YOU! If you like the podcast, please go to Apple Podcasts to leave a comment and give us a 5 Star rating...Thank You!
Apple Podcast
https://podcasts.apple.com/us/podcast/ruin-a-bad-guys-day-radio-fraud-prevention-podcast/id1437720527?mt=2
In this episode we discuss how fraudsters exploit malware and phishing for financial gain. A recent conviction of international cybercriminals in federal court reveals how these fraudsters operate and target their victims. Learn how protect yourself from malware and phishing schemes.
Source: Department of Justice
https://www.justice.gov/opa/pr/two-romanian-cybercriminals-convicted-all-21-counts-relating-infecting-over-400000-victim
Romanian Cybercriminals Convicted of All 21 Counts Relating to Infecting Over 400,000 Victim Computers with Malware and Stealing Millions of Dollars
A federal jury convicted two Bucharest, Romania residents of 21 counts related to their scheme to infect victim computers with malware in order to steal credit card and other information to sell on dark market websites, mine cryptocurrency and engage in online auction fraud, announced Assistant Attorney General Brian A. Benczkowski of the Justice Department's Criminal Division and U.S. Attorney Justin E. Herdman of the Northern District of Ohio

Two Romanians were convicted after a 12-day trial of conspiracy to commit wire fraud, conspiracy to traffic in counterfeit service marks, aggravated identity theft, conspiracy to commit money laundering and 12 counts each of wire fraud. Sentencing has been set for Aug. 14, 2019 before Chief Judge Patricia A. Gaughan of the Northern District of Ohio.

According to testimony at trial and court documents, the defendants who pleaded guilty collectively operated a criminal conspiracy from Bucharest, Romania. It began in 2007 with the development of proprietary malware, which they disseminated through malicious emails purporting to be legitimate from such entities as Western Union, Norton AntiVirus and the IRS. When recipients clicked on an attached file, the malware was surreptitiously installed onto their computer.

This malware harvested email addresses from the infected computer, such as from contact lists or email accounts, and then sent malicious emails to these harvested email addresses. The defendants infected and controlled more than 400,000 individual computers, primarily in the United States.
Listen to the podcast for more information!
Malware:
https://en.wikipedia.org/wiki/Malware
Malware (malicious software) is any software intentionally designed to cause damage to a computer, server, client, or computer network. Malware does the damage after it is implanted or introduced in some way into a target's computer and can take the form of executable code, scripts, active content, and other software. The code is described as computer viruses, worms, Trojan horses, ransomware, spyware, adware, and scareware, among other terms. Malware has a malicious intent, acting against the interest of the computer user—and so does not include software that causes unintentional harm due to some deficiency, which is typically described as a software bug.
Phishing
https://en.wikipedia.org/wiki/Phishing
Phishing is the fraudulent attempt to obtain sensitive information such as usernames, passwords and credit card details by disguising as a trustworthy entity in an electronic communication. Typically carried out by email spoofing or instant messaging, it often directs users to enter personal information at a fake website, the look and feel of which are identical to the legitimate site.

Phishing is an example of social engineering techniques being used to deceive users. Users are often lured by communications purporting to be from trusted parties such as social web sites, auction sites, banks, online payment processors or IT administrators.
Contact Ruin a Bad Guy's Day Radio:
https://www.ruinabadguysday.com/contact
Donate: Help Ruin a Bad Guy's Day Radio fight fraud!
https://donorbox.org/support-ruin-a-bad-guy-s-day-radio
Ruin a Bad Guy's Day Radio Merchandise:
-Coffee Mugs, T-Shirts, Hoodies
Sale! Get 15% Off - Use Coupon Code: THANKYOU
https://teespring.com/stores/ruin-a-bad-guys-day-radio
Who Should Listen?
Fraud Managers and Investigators, Cybersecurity, Fraud Analysts, Law Enforcement Professionals, Risk Managers, E-commerce Managers, M-commerce managers, Finance Professionals, Chargeback Specialists, Call Center Agents, and IT/Operations.
Disclaimer:
Ruin a Bad Guy's Day, LLC. The information provided in Ruin a Bad Guy's Day/Skip Myers podcasts/webinars and accompanying material is for informational purposes only. It should not be considered legal or financial advice. You should consult with legal counsel or other professionals to determine what may be best for your individual or organizational needs.
Ruin a Bad Guy's Day® is a registered trademark.
Visit: https://www.ruinabadguysday.com
More Podcasts:
https://ruinabadguysday.podbean.com/
Sponsor a Podcast:
https://ruinabadguysday.podbean.com/p/sponsor-us/