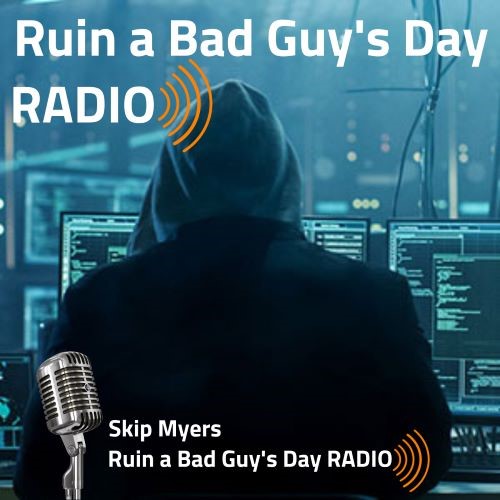 HACKED! My Identity Has Been Stolen - Really!
Subscribe: Apple Podcasts | YouTube | Spotify | Stitcher | TuneIn 
After the Equifax data breach in September 2017, I started a personal journey to protect my identity and take proactive measures to ruin a bad guy's day! I researched and reviewed several identity theft monitoring services, credit monitoring services, and how I could freeze my credit with all three credit bureaus. There are some very simple steps YOU can take right now to protect your identity and stop a bad guy from opening credit in your name and Ruining Your Day.
Sponsored By: Nord VPN 
Best Plan: 3 Years - Only $2.99 month
Get a VPN that takes your privacy seriously
- Access 5,238 servers worldwide

- Connect 6 devices at the same time

- 30-day money-back guarantee
Today, Skip discusses how his personal identity was compromised and recently used by criminals to open a line of credit with a large women's clothing retailer. However, through a proactive approach to protect his identity, Skip details the steps he took to stop the fraudsters in their tracks. Now, Skip is awaiting additional information from LifeLock and the retailer so that he can pursue the fraudsters with every means at his disposal. Check out Ruin a Bad Guy's Day: https://www.ruinabadguysday.com
It's time to play offense against the fraudsters and Ruin a Bad Guy's Day!
What can YOU do?
Open an Identity Theft Monitoring Account -  LifeLock or Experian

Open a Credit Monitoring Account - Credit Karma

Freeze Your Credit with All 3 Credit Bureaus
Who should YOU call?
Social Security Administrations Fraud Alert Line - 800-269-0271

Federal Trade Commission - Report Identity Theft - 877-FTC-HELP
Ruin a Bad Guy's Day Radio Merchandise:
-Coffee Mugs, T-Shirts, Hoodies
https://teespring.com/stores/ruin-a-bad-guys-day-radio
Who Should Listen? 
Fraud Managers and Investigators, Fraud Analysts, Law Enforcement Professionals, Risk Managers, E-commerce Managers, M-commerce managers, Finance Professionals, Chargeback Specialists, Call Center Agents, IT/Operations.
Disclaimer: 
Ruin a Bad Guy's Day, LLC. The information provided in Ruin a Bad Guy's Day/Skip Myers podcasts/webinars and accompanying material is for informational purposes only. It should not be considered legal or financial advice. You should consult with legal counsel or other professionals to determine what may be best for your individual or organizational needs.
Ruin a Bad Guy's Day® is a registered trademark.
Visit:https://www.ruinabadguysday.com