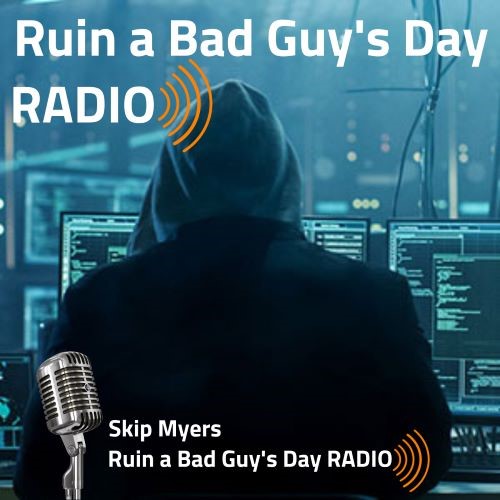 What is Synthetic Identity Fraud?
Subscribe: RadioPublic | Apple Podcasts | YouTube | Spotify | Stitcher | TuneIn
Source: ThomsonReuters
Summary: In order to commit SIF or Synthetic Identify Fraud, fraudsters steal legitimate social security numbers from individuals who are not using their credit and/or have not established a credit file with the three credit reporting agencies. Fraudsters build and create synthetic identities by adding bogus addresses, names, and even fake social media accounts. This is when the real "fraud" begins with synthetic identity theft. Download the Podcast for more information!
Topics Discussed:
-Synthetic Identity Fraud/Theft
-How Bad Guy's Create Synthetic Identities
-What You Can Do?
Ruin a Bad Guy's Day Radio Merchandise - 15% Off - Use Coupon Code: THANKYOU
-Coffee Mugs, T-Shirts, Hoodies
https://teespring.com/stores/ruin-a-bad-guys-day-radio
Contact Us:
https://www.ruinabadguysday.com/contact
Donate: Help Ruin a Bad Guy's Day Radio fight fraud!
https://donorbox.org/support-ruin-a-bad-guy-s-day-radio
Top VPN Services:
-Private Internet Access – PIA
-PureVpn
-IPVanish
-NordVPN
More Information:
Senate Bill 2155: Economic Growth, Regulatory Relief, Consumer Protection Act
Link: https://www.congress.gov/bill/115th-congress/senate-bill/2155
-Internet Crime Center - File a Complaint
-IC3.gov
-Secret Service.gov
Check out AuditLock Fraud Consultancy:
Who Should Listen?
Fraud Managers and Investigators, Fraud Analysts, Law Enforcement Professionals, Risk Managers, E-commerce Managers, M-commerce managers, Finance Professionals, Chargeback Specialists, Call Center Agents, IT/Operations.
Disclaimer:
Ruin a Bad Guy's Day, LLC. The information provided in Ruin a Bad Guy's Day/Skip Myers podcasts/webinars and accompanying material is for informational purposes only. It should not be considered legal or financial advice. You should consult with legal counsel or other professionals to determine what may be best for your individual or organizational needs.
Ruin a Bad Guy's Day® is a registered trademark.