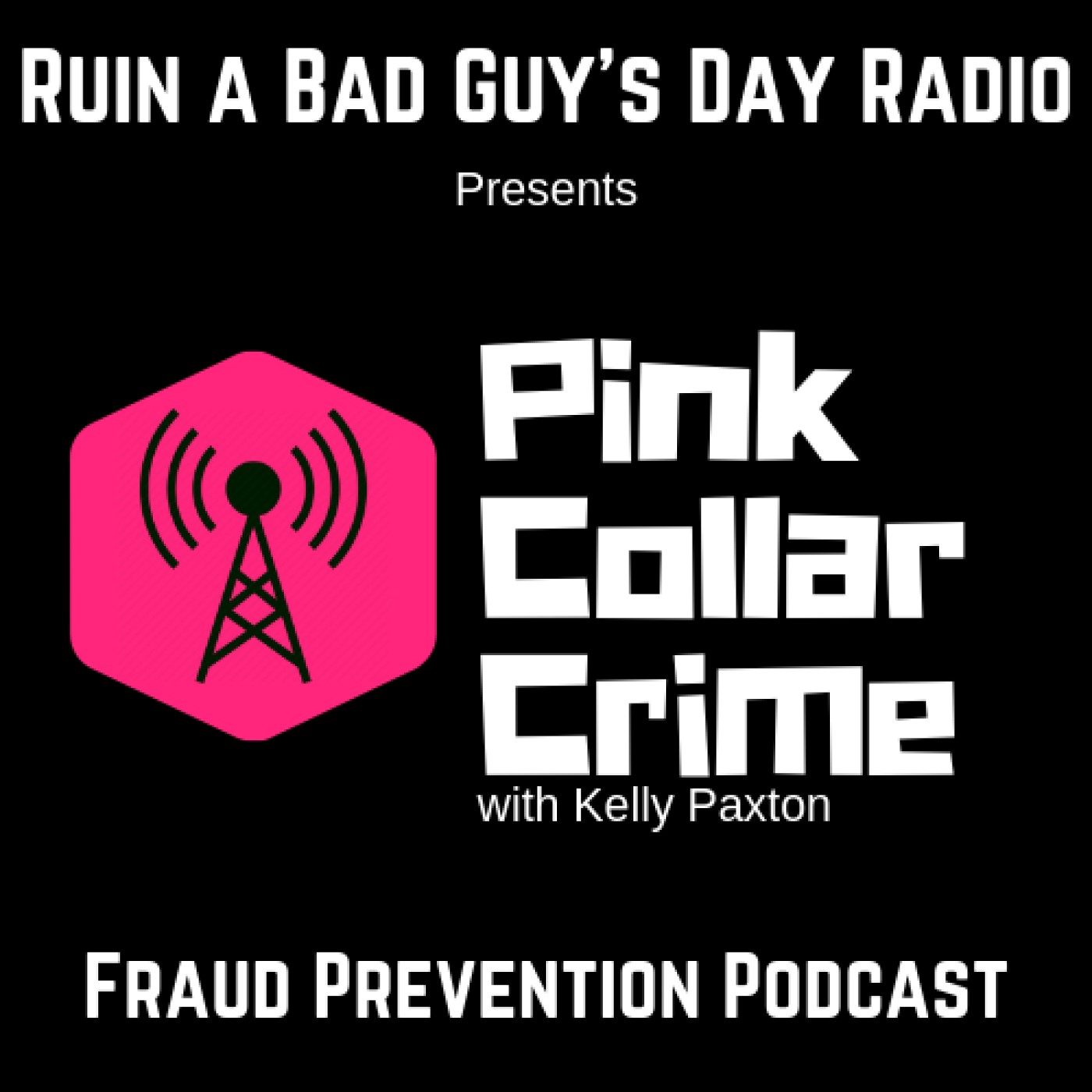 Do You Have Pink Around the Collar? Kelly Paxton Discusses How Pink Collar Criminals are becoming the New Threat to Your Business.
This week, Ruin a Bad Guy's Day Radio interviews Kelly Paxton with PinkCollarCrime.com. Kelly discusses How Women Fraudsters are becoming the New Threat to Your Business. #pinkcollarcrime
Special Guest: Kelly is a nationally recognized expert and speaker on Pink Collar Crime. Kelly is one of the "Good Guys" who has spent a career investigating hundreds of cases ranging from money laundering to conflict of interest to embezzlement schemes.
Kelly explains how, "It's position Not gender that is important when investigating pink collar crimes and unfortunately, embezzlement happens to every type of business. Whether you're a dentist, small business owner, municipal agency, it can happen to anyone."
Great advice from Kelly on the podcast at:
[00:14:42]

Yeah. You know, my dad always said I was Snoopy. I kind of like to say, I'm curious, when things just don't make sense.

[00:14:51]

It's like, I had a dentist who got ripped off and he's like, well, maybe I should have known when she had a newer model BMW than me. And I'm like, you know, I know you're kidding, but you're not. 
Discussion Topics Include:
We know that many fraudsters are sometimes long-term and trusted employees. Why do good employees go bad and what can we do to prevent it?

What is Pink Collar Crime and how it is different than White Collar Crime.

What are some of the traits or characteristics of a Pink Collar Crime Criminal?

It there an element of the fraud triangle our listeners can control to help prevent the fraud from occurring in the first place? If so, what more could have been done?

How to identify "pink flags".

Are there any great Tips or Tricks you use for investigating and interviewing a Pink Collar Criminal?
Listen to the Podcast to learn more!
For more information on how Kelly Paxton and PinkCollarCrime.com can help you uncover the truth with investigating money laundering and embezzlement cases – Visit PinkCollarCrime.com
Contact: 
Kelly Paxton
Pink Collar Crime
Office: 503-521-6167
Web: https://pinkcollarcrime.com/
Email: kelly@kellypaxton.com
LinkedIn: https://www.linkedin.com/in/kellypaxton/
Twitter: https://twitter.com/pdxcfe
Who Should Listen?
Fraud Managers and Investigators, Cybersecurity, Fraud Analysts, Law Enforcement Professionals, Risk Managers, E-commerce Managers, M-commerce managers, Internal Auditors, Finance Professionals, Chargeback Specialists, Call Center Agents, and IT/Operations professionals.
Disclaimer:
Ruin a Bad Guy's Day, LLC. The information provided in Ruin a Bad Guy's Day Radio/Skip Myers podcasts/webinars and accompanying material is for informational purposes only. It should not be considered legal or financial advice. You should consult with legal counsel or other professionals to determine what may be best for your individual or organizational needs.
Ruin a Bad Guy's Day® is a registered trademark.
Visit: https://www.ruinabadguysday.com
Contact Ruin a Bad Guy's Day Radio:
https://www.ruinabadguysday.com/contact
Donate: Help Ruin a Bad Guy's Day Radio fight fraud!
https://donorbox.org/support-ruin-a-bad-guy-s-day-radio
Ruin a Bad Guy's Day Radio Merchandise:
-Coffee Mugs, T-Shirts, Hoodies
Sale! Get 15% Off - Use Coupon Code: THANKYOU
https://teespring.com/stores/ruin-a-bad-guys-day-radio
More Podcast Episodes: 
https://ruinabadguysday.podbean.com/
Sponsor a Podcast Episode with an Exclusive Business Interview:
https://ruinabadguysday.podbean.com/p/sponsor-us/
Subscribe and Listen Free:
Apple Podcasts
https://podcasts.apple.com/us/podcast/ruin-a-bad-guys-day-radio-fraud-prevention-podcast/id1437720527?mt=2
Google Podcasts
https://podcasts.google.com/?feed=aHR0cHM6Ly9ydWluYWJhZGd1eXNkYXkucG9kYmVhbi5jb20vZmVlZC54bWw
Spotify
https://open.spotify.com/show/4F8XIbIT3R9h8iMVGJnjC3
Overcast
https://overcast.fm/itunes1437720527/ruin-a-bad-guys-day-radio-fraud-prevention-podcast
iHeartRadio
https://www.iheart.com/podcast/256-ruin-a-bad-guys-day-radio-43100362/
Twitter: