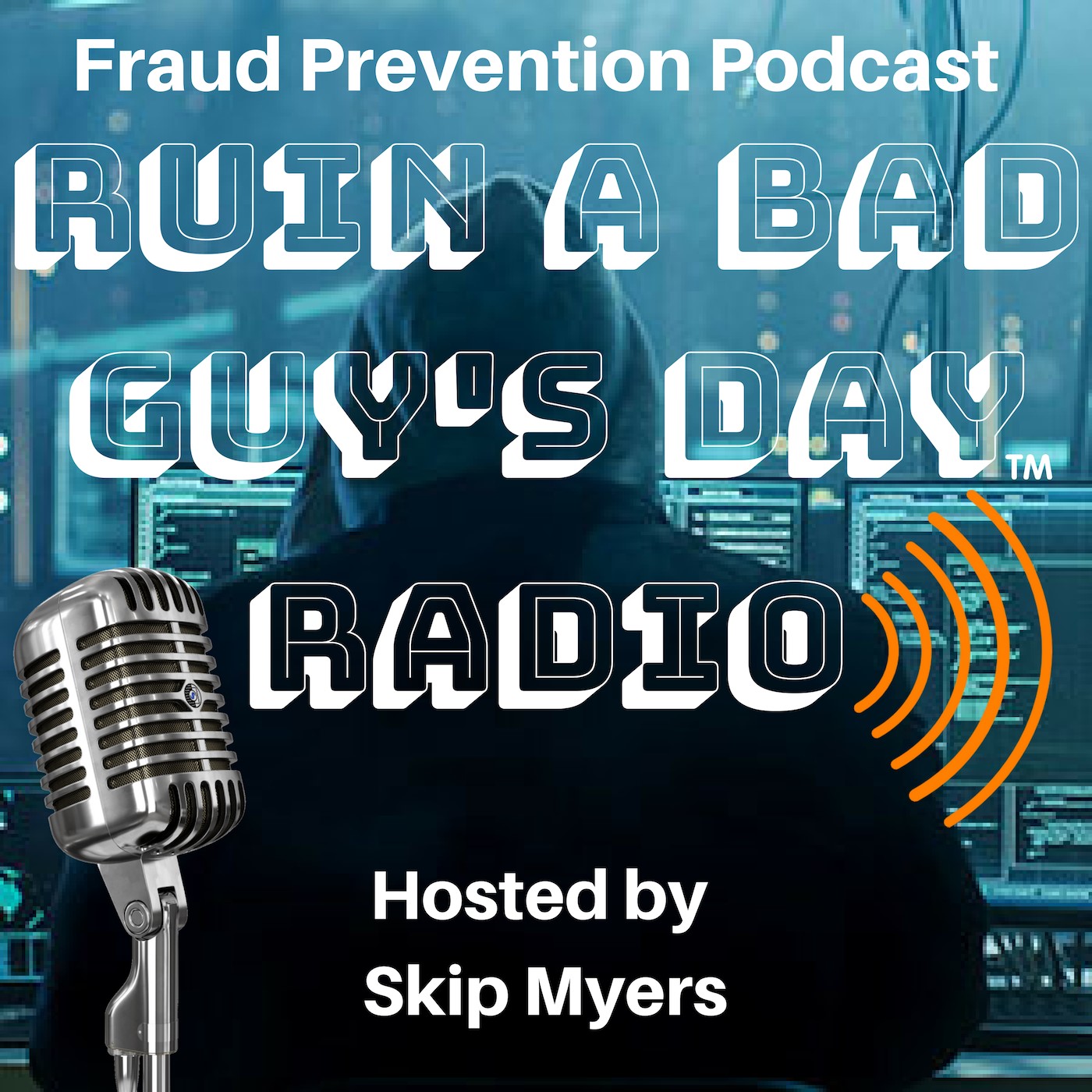 How to be Smart in a World of Stupid Criminals: Interview with Matt Christensen at FraudNotFrog.com
Welcome to Ruin a Bad Guy's Day Radio. We are growing by leaps and bounds because of listeners just like YOU! If you like the podcast, please go to Apple Podcasts to leave a comment and give us a 5 Star rating...Thank You!
Apple Podcasts/iTunes
https://podcasts.apple.com/us/podcast/ruin-a-bad-guys-day-radio-fraud-prevention-podcast/id1437720527?mt=2
Ruin a Bad Guy's Day Radio interviews Matt Christensen at FraudNotFrog.com. In this episode we discuss how professional development and training helps you stay ahead of stupid criminals and fraudsters. 
Matt is transforming Anti-Fraud CPE or continuing education and professional development for fraud fighters through Audit Lock consultancy and FraudNotFrog.com by offering convenient and mobile-friendly anti-fraud training for fraud examiners, auditors, and investigators. Listen to the Podcast to learn more!
Discussion Topics:
News Story: Stupid Criminals Butt-Dial 911 During Burglary

Helping

you fight fraudsters through enhanced training and awareness through a better understanding of cybersecurity and internal audit controls at FraudNotFrog.com

How to leverage an existing skill set to break into the anti-fraud industry.

How cyber security and internal audit control professionals can break down silos and work together to fight fraud.
More Information:
FraudNotFraud.com
Anti-Fraud Courses:
https://courses.fraudnotfrog.com/
AuditLock Fraud Consultancy
https://www.linkedin.com/in/auditlock-fraud-consultancy-347305159/
Matt Christensen
https://www.linkedin.com/in/christensenmatt/
CFE - Certified Fraud Examiner | Association of Certified Fraud Examiners

ITPM - Insider Threat Program Manager | Software Engineering Group | Carnegie Mellon University

CISSP - Certified Information Systems Security Professional | (ISC)2

GIAC GSLC - Security Leadership Certification | SANS Institute

GIAC GSEC - Security Essentials Certification | SANS Institute

CRISC - Certified in Risk and Information Systems Control | ISACA

CCSK- Certificate of Cloud Security Knowledge | Cloud Security Alliance

ITILv3 - Information Technology Infrastructure Library | EXIN
FraudNotFrog.com provides the best anti-fraud online training platform for continuing professional education (CPE) and other professional anti-fraud development. It's a new way of training and becoming a better fraudfighter.
Our platform is self-paced and mobile friendly - train while at work or while on the train.
Contact Ruin a Bad Guy's Day Radio:
https://www.ruinabadguysday.com/contact
Donate: Help Ruin a Bad Guy's Day Radio fight fraud!
https://donorbox.org/support-ruin-a-bad-guy-s-day-radio
Ruin a Bad Guy's Day Radio Merchandise:
-Coffee Mugs, T-Shirts, Hoodies
Sale! Get 15% Off - Use Coupon Code: THANKYOU
https://teespring.com/stores/ruin-a-bad-guys-day-radio
Who Should Listen?
Fraud Managers and Investigators, Cybersecurity, Fraud Analysts, Law Enforcement Professionals, Risk Managers, E-commerce Managers, M-commerce managers, Internal Auditors, Finance Professionals, Chargeback Specialists, Call Center Agents, and IT/Operations professionals.
Disclaimer:
Ruin a Bad Guy's Day, LLC. The information provided in Ruin a Bad Guy's Day/Skip Myers podcasts/webinars and accompanying material is for informational purposes only. It should not be considered legal or financial advice. You should consult with legal counsel or other professionals to determine what may be best for your individual or organizational needs.
Ruin a Bad Guy's Day® is a registered trademark.
Visit: https://www.ruinabadguysday.com
More Podcasts: 
https://ruinabadguysday.podbean.com/
Sponsor a Podcast:
https://ruinabadguysday.podbean.com/p/sponsor-us/
Twitter: