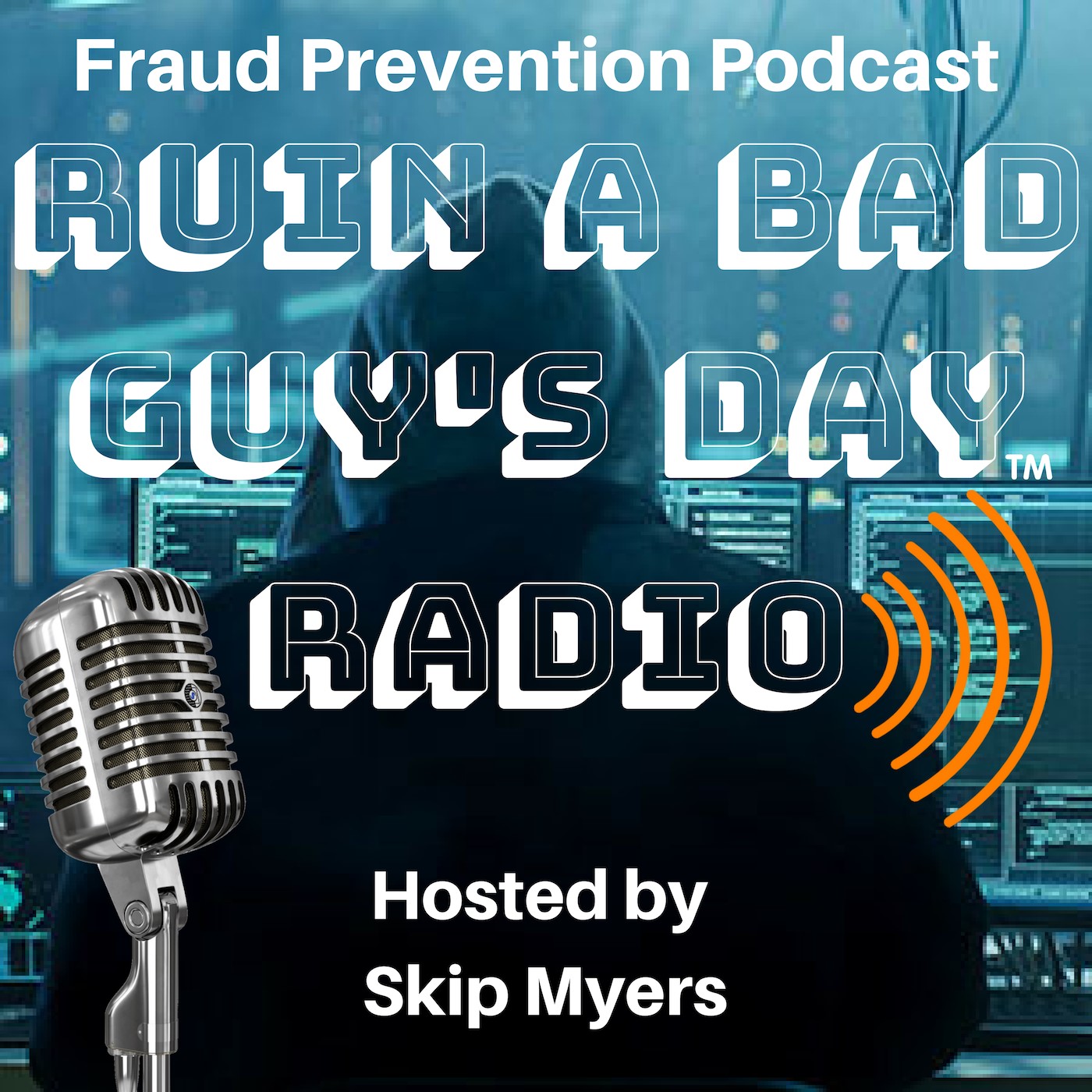 Cleantech Con Artists: A True Vegas Caper - Interview with Author/Historian Jim Rossi
This week, Ruin a Bad Guy's Day Radio interviews Jim Rossi, Author and Historian of the new book: "Cleantech Con Artists: A True Vegas Caper." Jim is a nationally acclaimed author and a LinkedIn Top Voice with over 430,000 followers! Jim and Skip discuss this fantastic non-fiction story about crime and corruption set in Las Vegas. 
Jim Rossi: His first book is "Cleantech Con Artists: A True Vegas Caper," a nonfiction, first-person, man-bites-dog story of fraud and history. Set in Las Vegas, the story begins during his graduate study there. He's currently at work on his second book, "Reverse-Engineering the Echo Chamber," about how the history of communications technology has affected information, free speech, and politics - and what we can do to find and learn from different perspectives.
Fraud costs Americans over a trillion dollars per year. So in Sin City, we made fraud prevention into an extreme sport.
Las Vegas, founded on the idea of getting people to not think about the long-term consequences of their actions, seems like the last place anyone would go to study history and sustainability. But look closer. Las Vegas is also the City of Second Chances, the surrounding Mojave Desert a land of mirages. Here the line separating reality and fantasy gets blurred. So do the lines separating graduate school, entrepreneurship, journalism, and fraud.
When I first went local, enrolling at the University of Nevada, Las Vegas, I made new friends - and a few enemies. Among them: a young British tycoon who bought Mike Tyson's mansion, poker players and golf hustlers, FBI agents and ex-cons, friendly neighborhood bounty hunters, and one charismatic frenemy: a young, clean energy technology entrepreneur named Xavier.
As The Strip seduces me, I uncover a complex maze of scams ranging from Photoshop forgeries, mortgage fraud, identity theft, and crowdfunding to hacking, hypnosis, and intellectual property theft. The schemes span from Sin City to the Rocky Mountains, China, and into the headquarters of Silicon Valley's best-known clean energy nonprofit. As privacy disappears in the 21st century, turnabout is fair play. The hunter becomes the hunted. In Sin City, you can be whoever you want to be – but you have to pay the consequences. 
What is the ultimate Vegas rush: pulling off a multimillion-dollar con job – or blowing one up?
JIM ROSSI: Author/Historian
Cleantech Con Artists: A True Vegas Caper
Available on Amazon: 
https://www.amazon.com/Cleantech-Artists-True-Vegas-Caper-ebook/dp/B07V6L5M8T/ref=sr_1_2?keywords=Cleantech+Con+Artists&qid=1567207121&s=books&sr=1-2
Website:
Email:
jim@cleantechconartists.com
LinkedIn: 
https://www.linkedin.com/in/cleantechconartist/
Who Should Listen?
Fraud Managers and Investigators, Cybersecurity, Fraud Analysts, Law Enforcement Professionals, Risk Managers, E-commerce Managers, M-commerce managers, Internal Auditors, Finance Professionals, Chargeback Specialists, Call Center Agents, and IT/Operations professionals.
Disclaimer:
Ruin a Bad Guy's Day, LLC. The information provided in Ruin a Bad Guy's Day Radio/Skip Myers podcasts/webinars and accompanying material is for informational purposes only. It should not be considered legal or financial advice. You should consult with legal counsel or other professionals to determine what may be best for your individual or organizational needs.
Ruin a Bad Guy's Day® is a registered trademark.
Visit: https://www.ruinabadguysday.com
Contact Ruin a Bad Guy's Day Radio:
https://www.ruinabadguysday.com/contact
Donate: Help Ruin a Bad Guy's Day Radio fight fraud!
https://www.paypal.com/cgi-bin/webscr?cmd=_s-xclick&hosted_button_id=J9BFPVD8FK9ME&source=url
Ruin a Bad Guy's Day Radio Merchandise:
-Coffee Mugs, T-Shirts, Hoodies
Sale! Get 15% Off - Use Coupon Code: THANKYOU
https://teespring.com/stores/ruin-a-bad-guys-day-radio
More Podcast Episodes: 
https://ruinabadguysday.podbean.com/
Sponsor a Podcast Episode with an Exclusive Business Interview:
https://ruinabadguysday.podbean.com/p/sponsor-us/
Subscribe and Listen Free:
Apple Podcasts
https://podcasts.apple.com/us/podcast/ruin-a-bad-guys-day-radio-fraud-prevention-podcast/id1437720527?mt=2
Google Podcasts
https://podcasts.google.com/?feed=aHR0cHM6Ly9ydWluYWJhZGd1eXNkYXkucG9kYmVhbi5jb20vZmVlZC54bWw
Spotify
https://open.spotify.com/show/4F8XIbIT3R9h8iMVGJnjC3
Overcast
https://overcast.fm/itunes1437720527/ruin-a-bad-guys-day-radio-fraud-prevention-podcast
iHeartRadio
https://www.iheart.com/podcast/256-ruin-a-bad-guys-day-radio-43100362/
Twitter:
https://twitter.com/ruinabadguysday
YouTube Channel:
https://www.youtube.com/channel/UCNl93OdXvepisBlxoWVgj7w